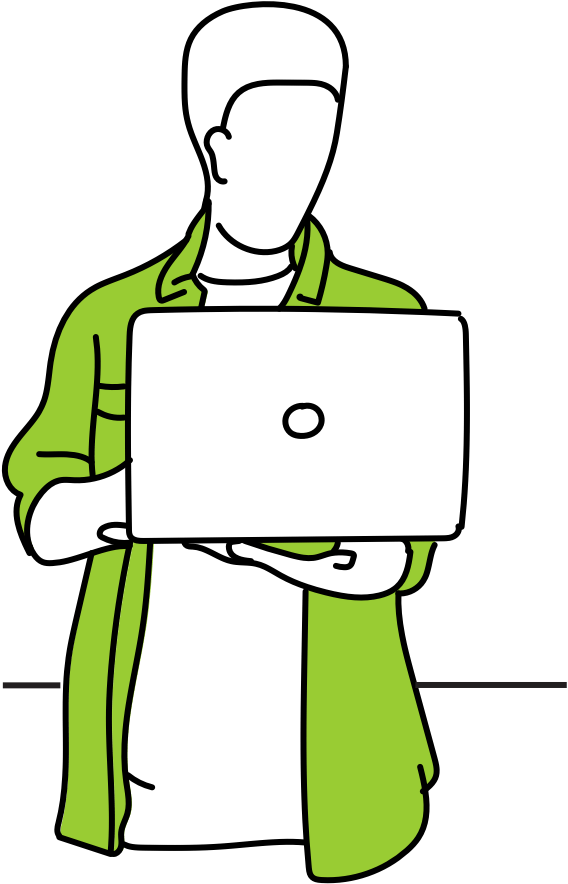 Why IT support consulting from Trigama?
Our staff has more than 10 years of experience in IT support in multinational companies
We are looking for a solution that is built on balancing business and IT requirements
We offer the short and long-term hiring out of individuals and entire teams to manage and administer systems
We have a cross-industry overlap and our aim is to deliver first class quality every time
01 - Introductory workshop
If we are to work together, we need to get to know each other. We will discuss your ideas, the main aspects of your business, business needs and expectations. In case you have your own IT support we would like to know how it works at present, what you are satisfied with and what you are not. We prefer a face-to-face meeting, but we normally communicate online as well.
02 - Preparatory work
We will make meetings with stakeholders for each area of your company. From the results of these meetings we will get a more comprehensive picture of what your employees are concerned about today and what they would like to change. We'll review your processes and systems so we can design the most efficient and fastest way to support you in the future.
03 - Solution design
Based on the outputs, we will prepare proposals for comprehensive IT support. Due to our overlap, we are also able to prepare a proposal for implementing or modifying existing systems and processes to operate more efficiently. If interested, we can also provide marketing support, to help "sell" your IT department to business representatives. The output will be models by which IT support can be operated.
04 - Implementation of the proposals
We will implement the changes. But this is only the beginning of our work. Our goal is not only to help you in your operations, but also to continuously come up with new ideas and technologies that will move your business forward, whether in terms of safety or new possibilities.
Why have infrastructure management from Trigama?
We have experience working in multinational corporations
We design sustainable and modern solutions
We follow trends in the industry and apply them in practice
We want to have a good, and above all long-term relationship with our customers
What can you expect from us?
01 - Management of existing infrastructure
We take care of your infrastructure from A to Z. We will check what you are running -> recommend changes -> take over management. We continue to develop and monitor your infrastructure so that everything works efficiently.
02 - Moving from on-premise to the cloud
Tired of investing in hardware and dealing with the hassle of running your own data centre or renting expensive space? Would you like to be able to increase the performance and number of servers as you need? If you are thinking about moving from the on-prem world to the cloud, or would like to try a hybrid scenario, we can provide both technical and licensing consultation, or do the entire migration for you.
03 - Surveillance
While you sleep undisturbed, our experts are able to supervise and care for your environment so that it operates with the expected availability and reliability. We can also supply you with the necessary tools to monitor your infrastructure.
Why choose Trigama's IT Security service?
We look for a balance between work productivity and security
We have experience with security in large financial institutions
We follow security trends and can react to current situations
We first look for ways to make the most of your current solution before we start looking for new ones
Trigama offers the following services:
01 - Analysis of the current situation
We will look at your areas of concern and assess their security status. Both in terms of the actual setup of the systems and in terms of process deficiencies. We will go through the different technologies used in your company and compare their security settings against proven standards. The output will be a document describing the security of your environment and its vulnerabilities.
02 - Solution design
Based on your enquiry or previous analysis, we will prepare a solution for you. We will not only focus on the technical solution itself, but also on the design of processes that will help to maintain security at a high level in the long term. Before proposing the introduction of a new technology, our priority is always to try to secure your environment as much as possible using the technologies you have already implemented in your company and thus not unnecessarily increase the cost of cybersecurity. The result will be a proposal for specific measures, including a timetable for their implementation.
03 - Solution implementation
With the help of our project and technical experts, we can help you implement new and revise existing processes and solutions in your company from A to Z. As part of the implementation, we will train your in-house IT experts so that they understand the issues perfectly and can handle the operation and possible development of our proposed solutions.
04 - Adoption
Careful preparation of users for the change can minimize negative feelings about newly introduced technologies and limitations. Because of our overlap, we can provide marketing and communication to the company, prepare manuals and videos, and provide employee education through e-learning courses. By doing so, you will achieve positive acceptance of the changes and at the same time be able to train users against the most common types of attacks.
05 - Services (managed services)
Long-term cooperation is key for us. That's why we offer IT security monitoring for companies that don't have the money for expensive cybre security experts or in-house IT staff, helping to keep their environment as secure as possible. By knowing your environment, we keep an eye out for current security threats that could compromise your business. At the same time, we are available to plan for the future secure development of your IT.
Why deal with endpoint and mobile device management with Trigama?
Our people are market leaders in endpoint management with extensive experience and certified professionals
We can analyse your current situation and propose a suitable technical solution
We look at your needs and difficulties in a broad spectrum and within the appropriate context
We are ready to start cooperation immediately
How do we proceed?
01 - Analysis of the current state of the environment
Together, we will review and analyse the endpoint and mobile device environment in your company from A to Z. We will have fun with your ideas and needs. We then propose the best options for future solutions, with an emphasis on safety, practicality and efficiency.
02 - Deployment
In case you are not using any of your device management tools yet, we will help you to select, deploy and write technical documentation.
03 - Areas of operation
We can assist in all individual areas of endpoint and mobile device management as well as dealing with large-scale migrations and upgrades. We'll handle optimised delivery of the latest updates for you, as well as help you integrate Apple devices into your business. Everything is by mutual agreement.
04 - Support and Consulting
We can provide service support for Microsoft Endpoint Configuration Manager and Microsoft Intune and monitor current trends and news in the field for you. We are also able to reinforce your operations if you are facing capacity shortages for a variety of reasons, as well as train your internal IT department. We work together on the basis of a service contract that covers your needs.
Why deal with Trigama for M365 services?
We are not traditional IT people
Quality, thoughtfulness and solution adoption is the alpha and omega of the whole process for us
We can analyse your current situation and propose a suitable technical solution
We are ready to start cooperation immediately
How do we proceed?
01 - Introductory workshop
At the initial meeting we will discuss your ideas, the main aspects of your business, business needs and expectations. We prefer a face-to-face meeting, but we normally communicate online as well. The aim is to get a comprehensive picture of all your needs.
02 - Analysis of the current state of the environment
Our priority is satisfied end users, so we will survey their needs. We will document the current state and talk to your users about workflows and processes. We then propose the best options for a future solution, with an emphasis on security and future service scalability and cost-effectiveness. The result is a proposal for the technical design of the solution or individual services, a specific price and a schedule for the progress of the work.
03 - Deployment
We can set up M365 services or help you set up according to your technical design. We will walk through the pilot operation with you, fine-tune the details and together plan and then implement live operation.
04 - Information campaign and adoption
We know very well that communication with the user and the adoption of new tools is the cornerstone of the success of the entire transformation. That's why we'll help you introduce the services of the M365 world to your company. The feedback we collect from people is then the basis for further possible development.
05 - Support and Consulting
If you like working with Trigama, we can continue to work together, for example by supporting your environment and Microsoft 365 applications.